Hello everyone! Rachael is looking forward to getting back to the UK and Ireland this month to continue "The Revelation Tour", after spending some time in the studio working on her new album. All the details are below.
xoxo & popsicles,
Rachael & Team MPress
---
1. "THE REVELATION TOUR" RETURNS TO THE UK & IRELAND THIS MONTH
Part 2 of Rachael's summer 2022 headlining tour in the UK & Ireland kicks off this week, just in time for peak festival season! Highlights will include 2 main stage appearances at New Forest Fairy Festival, along with a return to The Green Note in London. Special guests along the tour will include Irish singer-songwriter Fiona Harte, award-winning poet Deborah Finding, rising UK duo Plumhall, and Irish chart-topper Mickey Joe Harte. Rachael will be accompanied at all shows by violinist Kelly Halloran. Tickets for all shows are on sale now at rachaelsage.com/shows!
2. UPCOMING EAST COAST APPEARANCES
Rachael is looking forward to a few shows closer to home, starting with an appearance at an art opening reception at the Ethan Cohen Gallery in Beacon, NY on Saturday, August 6 at 5pm. She will also be performing at the Jalopy Theatre in Brooklyn on September 30, and at Atomic Tom's in Binghamton on October 1. Full details and tickets are at rachaelsage.com/shows.
3. STUDIO UPDATE: RACHAEL'S NEW ALBUM IN THE WORKS!
Between tour dates Rachael's been hard at work on album #15 with some stellar musical collaborators! Recent visitors to the studio have included trumpet player Russ Johnson, guitarist Jack Petruzzelli, and accordion/organ player Rob Curto.
Rachael shares: "It's been amazing to get back to recording in-person with some of my absolute favorite musicians! I recorded 'Poetica' entirely remotely and was isolated the entire process... so being able to share ideas, laugh and generally vibe off of each other in the same room – safely masked of course – has been pretty revelatory. I can't wait for everyone to hear these new tunes, and to enjoy the beautiful players helping bring them to life!"
4. NOW BOOKING FOR SPRING/SUMMER 2023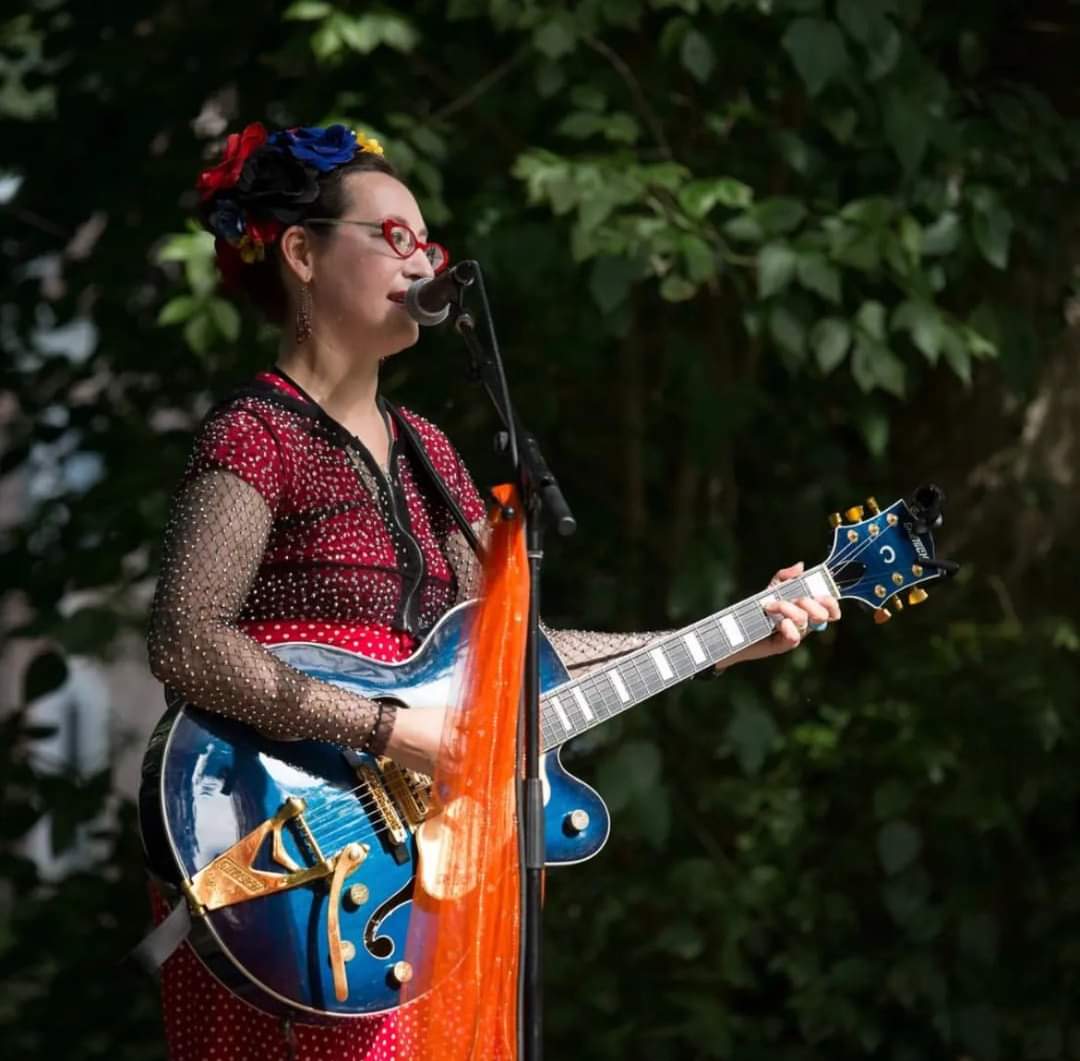 Believe it or not, Rachael and her Team at MPress Records are already gearing up to bring her show to your city/town in 2023, to support her next album! If you'd like to suggest venue ideas where you think Rachael would fit well, or connect us with your local concert series/promoter, please reach out to booking@mpressrecords.com and we'll do our best to make sure you have a front row seat to Rachael's next local gig!
Likewise, if you're interested in hosting a house concert, it's easier than you think! Reach out to booking@mpressrecords.com and we'll guide you through the process. Imagine Rachael performing acoustically in your home, backyard or local community/arts center. Let's make it happen!
Positive press continues to pour in for Rachael's "Revelation Ground" single and live appearances – including a full-page feature in the current issue of Maverick Magazine, that is currently on the shelves in the UK! Here is a rundown of the highlights (for more recent coverage, visit Rachael's website.
AVAILABLE NOW!

Poetica
2-CD Deluxe hardcover book, vinyl
& t-shirts!

Character
Available in 2-CD Deluxe hardcover book & vinyl packages
UPCOMING SHOWS
For more details and to confirm start times, please visit Rachael's website.
Please confirm Covid-19 policies with the venue prior to the show.
8/6/22 • Beacon, NY
Ethan Cohen Gallery @ KuBe Art Center
5:00 pm part of art opening reception
8/11/22 • Sutton, UK
The Sound Lounge
8:00 pm
supporting The Strange Valentines
8/12/22 • Oldham, UK
Old School BBQ Bus
8:00 pm
8/13/22 • Burley, UK
New Forest Fairy Festival
4:00 pm
8/14/22 • Burley, UK
New Forest Fairy Festival
4:00 pm
8/17/22 • London, UK
The Green Note
8:30 pm
w/Fiona Harte opening
8/18/22 • Southampton, UK
The Art House
7:30 pm
8/19/22 • Worthing, UK
O'Connor's
8:00 pm
8/20/22 • Midsomer Norton, UK
Midsomer Norton Cricket Club
7:00 pm
8/21/22 • Halifax, UK
The Workshop Theatre
7:30 pm
w/Plumhall
8/27/22 • Faulkland, UK
Tuckers Grave Cider Festival
2:00 pm
8/28/22 • Whitchurch, UK
Percy's Cafe Bar
9:00 pm
8/30/22 • Belfast, UK
The Sunflower
8:00 pm
8/31/22 • Dublin, IE
Whelan's Upstairs
8:00 pm
9/30/22 • Brooklyn, NY
Jalopy Theatre
8:00 pm
w/Miriam Clancy
10/1/22 • Binghamton, NY
Atomic Tom's
8:00 pm
---
Would you like Rachael to play at your venue or at your house?
Email booking@mpressrecords.com!