Happy New Year!
We hope 2022 treated you well and that the start of the new year has been filled with love, warmth & lots of good music!
Rachael is kicking off 2023 working on her new album - that she can't wait to share with you this year! She also has a ton of upcoming shows in the works, including an upcoming trip to the UK. Keep an eye on her website & socials for updates!
xoxo & light,
Rachael & Team MPress
---
RACHAEL SAGE PERFORMING ON MOUNTAIN STAGE
Rachael Sage is thrilled to be performing on Mountain Stage in Charleston, WV on March 19 as part of the 40th Anniversary celebration of Mountain Stage Radio Show! She will be performing alongside musicians Darlingside, Royal Wood, Altan, and Dear Darling.
Tickets for the in-person show are on sale now and if you can't make it in person the event will also be livestreamed! More info at mountainstage.org.
---
WINTER FILM AWARDS NYC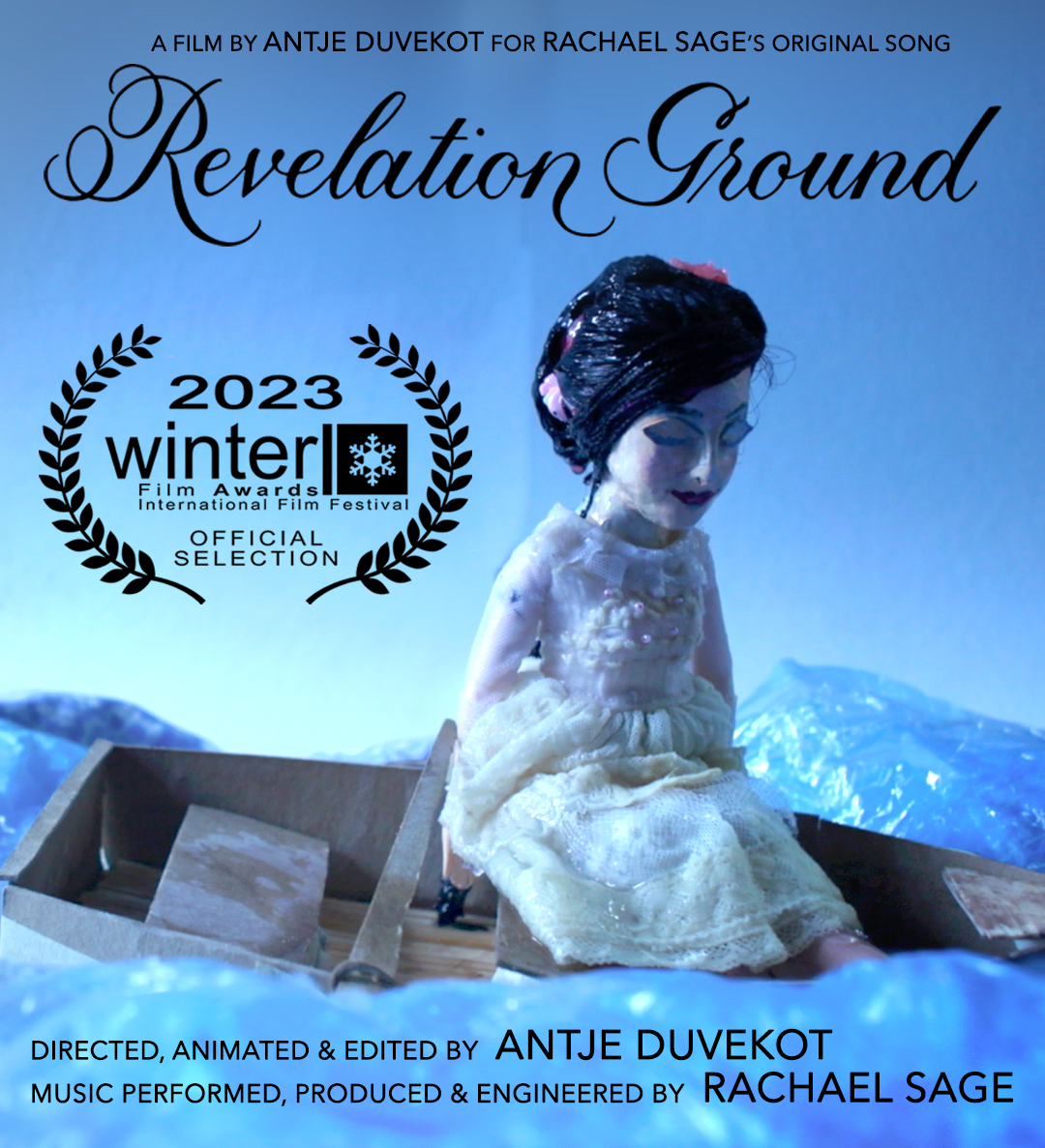 Rachael Sage's stop-motion animated video "Revelation Ground" as been chosen as an Official Selection for the 2023 Winter Film Awards International Film Festival being held in NYC this February. The video was created and directed by talented artist and singer-songwriter Antje Duvekot and was produced and engineered by Rachael.
"Revelation Ground" will be screening at the film festival on Monday, February 20 during the Evening Shorts Block (5:00 pm - 6:45pm) at Cinema Village in NYC. Tickets & more information available at winterfilmawards.com.
---
FOLK ALLIANCE INTERNATIONAL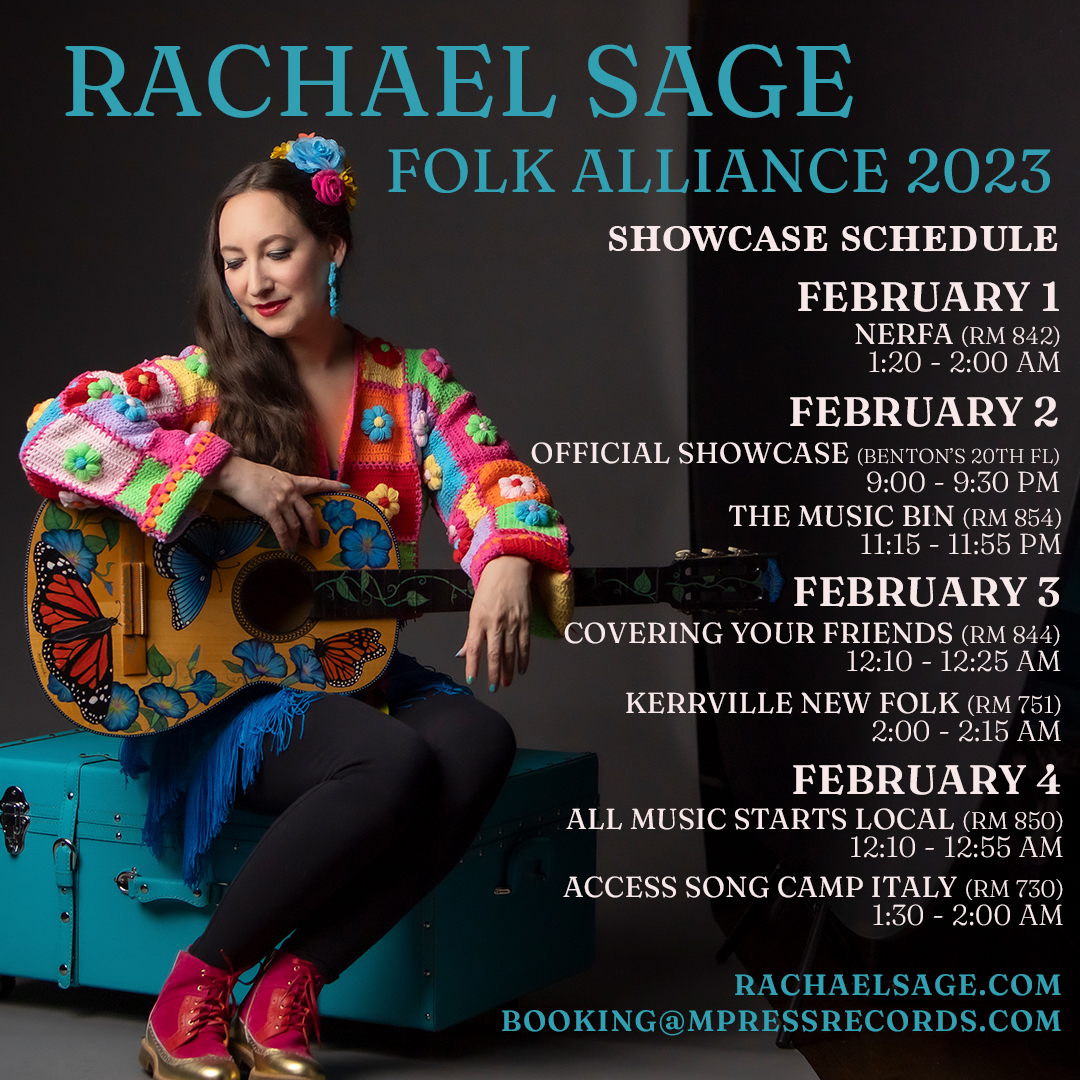 Rachael Sage will be attending the 35th Annual Folk Alliance International this year, taking place in Kansas City, Missouri. She is an official showcase artist and will be performing several showcases, accompanied by her fabulous violinist Kelly Halloran.
---
NEW ALBUM IN THE WORKS
Rachael has been hard at work on her upcoming album, her 15th album release. The album has been recorded at Carriage House Studios as well as Rachael's new Hudson Valley headquarters affectionally dubbed "The Creek". Produced by Sage with engineers Mikhail Pivovarov and Grammy® winner Andy Zulla the album also features musical collaborators such as Jack Petruzzelli (Patti Smith), Russ Johnson (Elvis Costello), James Mastro (Ian Hunter) and more. More info coming soon!

"Fab In every way. What a wonderful album. One of the best songwriters of the day...I love this album!" – Beth Hart
---
NEW SHOWS & BOOKING FOR SPRING 2023
A lot of shows are in the works including a UK trip, so be sure to keep an eye on Rachael's website as we continue to update her tour schedule.

We are continuing to work on booking Rachael for various shows throughout 2023 so if you'd like to suggest venue ideas where you think Rachael would fit well, or connect us with your local concert series/promoter, please reach out to booking@mpressrecords.com and we'll do our best to make sure you have a front row seat to Rachael's next local gig!

Likewise, if you're interested in hosting a house concert, it's easier than you think! Reach out to booking@mpressrecords.com and we'll guide you through the process. Imagine Rachael performing acoustically in your home, backyard or local community/arts center. Let's make it happen!
---

MPress Records - The Muscle Behind the Glitter!
* * *
"Character" & "Poetica" Out Now!
rachaelsage.com * facebook.com/rachaelsagepage
Follow Rachael On Twitter: twitter.com/rachaelsage
Follow Rachael on Instagram, too! instagram.com/rachael_sage
[Note: if you cannot see the images in this email, click this link to view online]