Hello all, and happy Summer! No sooner has Rachael returned from her whirlwind debut in Spain than she is heading back across the pond this weekend for part 1 of her UK summer headlining tour, including a very special show at The Troubadour in London next week!. Details on all that and more below.
xoxo & perseverance,
Rachael & Team MPress
---
1. "THE REVELATION TOUR": ACROSS THE POND & BEYOND!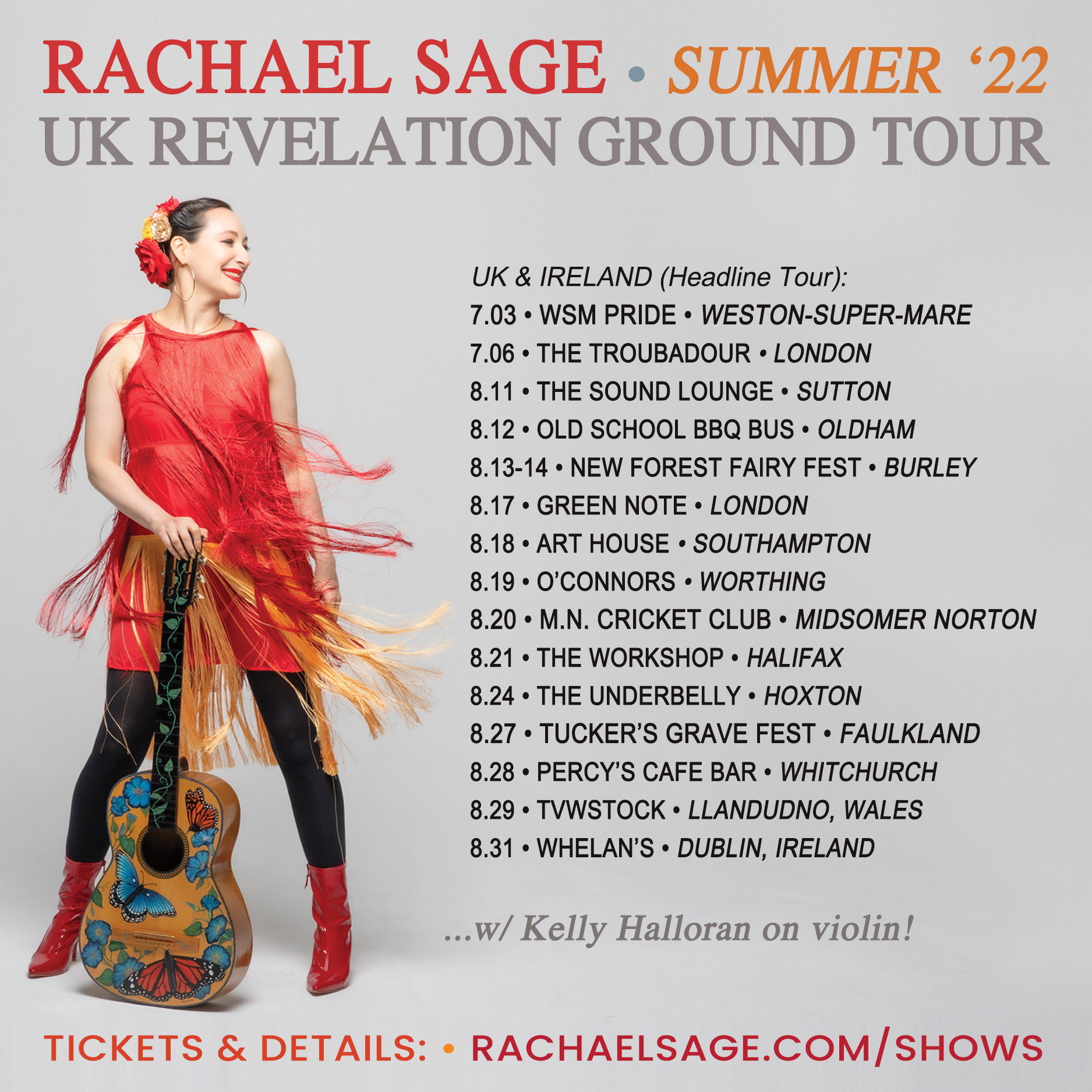 Rachael is looking forward to getting back to the UK this summer for a two-part headlining tour, accompanied by violinist Kelly Halloran! This weekend she will perform at Weston-super-Mare Pride on July 3, then return to the legendary Troubadour in London on July 6. In August a more extensive tour will include stops at The Green Note in Camden Town, Whelan's Upstairs in Dublin, the New Forest Fairy Festival in Burley, The Art House in Southampton, and Percy's Cafe Bar in Whitchurch; Rachael will also share the stage with her friends Plumhall at The Workshop Theatre in Halifax. Tickets for all shows are on sale now at rachaelsage.com/shows!
In between, Rachael will return to The Ladybug Festival in Milford, DE on Saturday, July 30, accompanied by Trina Hamlin on harmonica and percussion. This free event celebrating women in music is always a great time, so come on out if you're in the area!
For more info & to see the full lineup, visit theladybugfestival.com.
2. LONDON SHOWS TO FEATURE RACHAEL'S COLLABORATOR FIONA HARTE
Rachael's London shows at The Troubadour on July 6 and The Green Note on August 17 will both feature support by her longtime friend and collaborator, Irish singer-songwriter Fiona Harte. Fiona co-wrote "Home (Where I Am Now)", and sang backing vocals on "Hannukah In The Village". Rachael can't wait to have Fiona join her for these special evenings, and you won't want to miss either show! Be sure to get your tickets in advance. Full details and tickets are at rachaelsage.com/shows.
3. NEW POEMS ADDED TO RACHAEL'S WEBSITE
There's been a lot of tumult in the world lately, from the war in Ukraine and ongoing gun violence, to this past week's stunning reversal of Roe vs. Wade in the U.S. As is often the case, Rachael has been turning to writing to help process and reflect. You can read her new poems on her website, including "Flux", "Unfathomable", & "Riot Control".
4. MPRESS SUMMER POETRY CONTEST
In the spirit of art as a healing tool, we've also decided to highlight one of YOUR poems (or prose, if you prefer) in our next newsletter. We know there are some very creative, talented individuals on this email list, and we want to encourage you to submit a favorite piece of your writing to: submit@mpressrecords.com. We will pick our staff favorite and highlight it right here in next month's newsletter, and on MPress Records' social media. We'll also send you a free copy of Rachael's poetry book, "Karma's Trapeze"!
5. "REVELATION GROUND" ON THE RADIO!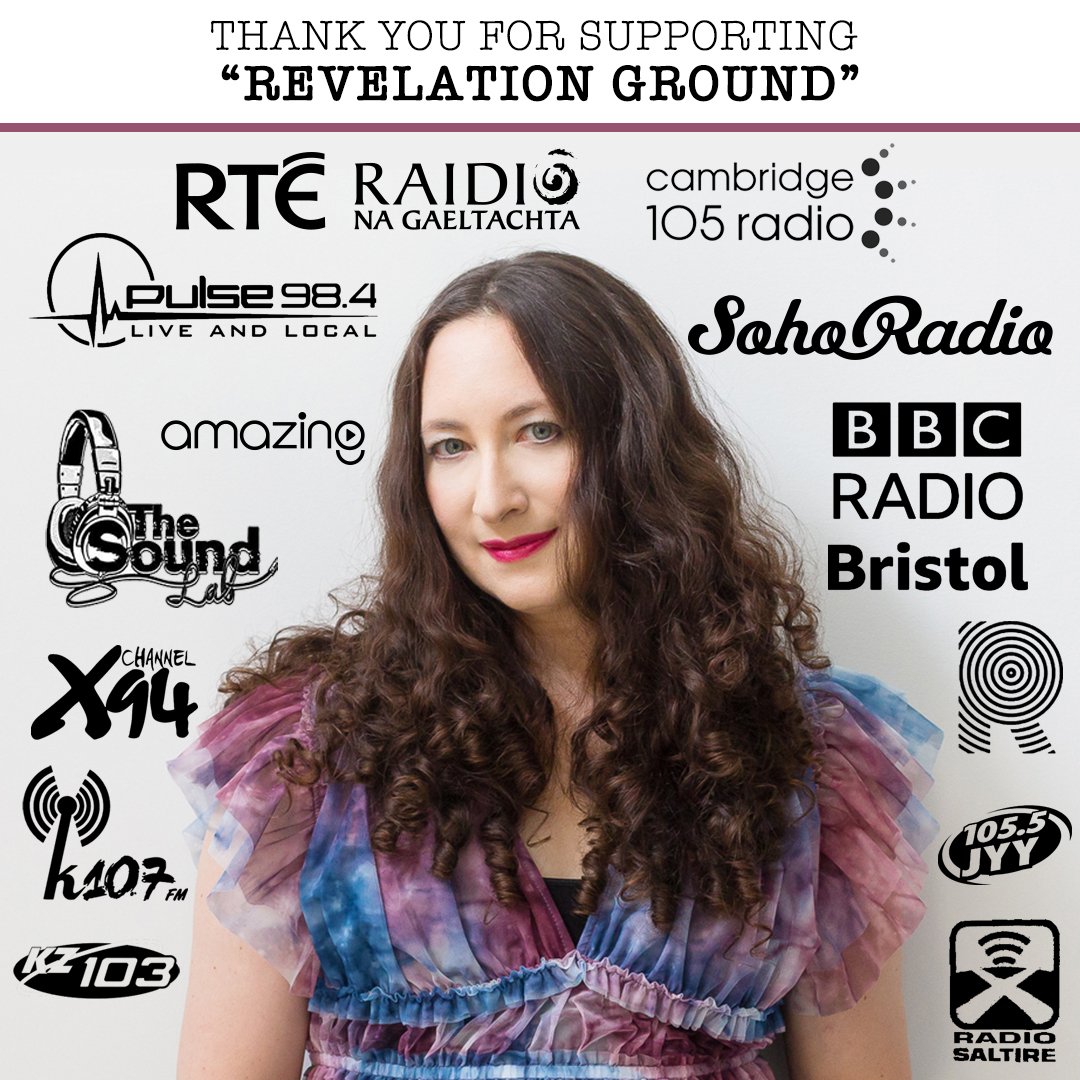 Big thanks from Rachael & all of us at Team MPress to everyone at radio who has supported her latest single "Revelation Ground" worldwide! From Amazing Radio in the UK to RTE in Ireland, Radio Australia Down Under & Folk Music Notebook online, we appreciate every single spin.
Rachael is looking forward to appearing on BBC Merseyside in Liverpool with Linda McDermott on the evening of Tuesday, August 23. If you are a radio host and would like to have Rachael on your show, please contact us.
6. IMELDA MAY TOUR RECAP: ENGLAND, IRELAND & SPAIN DEBUT!
This Spring and early Summer, Rachael ventured to the UK, Ireland and Spain supporting one of her favorite artists, Imelda May! As Rachael says, "Touring with Imelda and her band was literally a dream come true! To be able to perform for her wildly enthusiastic and respectful audience each night, and to share the stage with such a powerful, accomplished musician and writer was beyond inspiring!"
Check our the tour vlog from Ireland, the tour vlogs recounting Rachael's Adventures & Performances in Spain, and TikTok video for Spain!
AVAILABLE NOW!

Poetica
2-CD Deluxe hardcover book, vinyl
& t-shirts!

Character
Available in 2-CD Deluxe hardcover book & vinyl packages
UPCOMING SHOWS
For more details and to confirm start times, please visit Rachael's website.
Please confirm Covid-19 policies with the venue prior to the show.
7/3/22 • Weston-Super-Mare, UK
Weston-Super-Mare Pride
time TBD
7/6/22 • London, UK
The Troubadour
8:00 pm
w/Fiona Harte opening
7/30/22 • Milford, DE
The Ladybug Festival
5:00 pm
8/11/22 • Sutton, UK
The Sound Lounge
8:00 pm
supporting The Strange Valentines
8/12/22 • Oldham, UK
Old School BBQ Bus
8:00 pm
8/13/22 • Burley, UK
New Forest Fairy Festival
4:00 pm
8/14/22 • Burley, UK
New Forest Fairy Festival
4:00 pm
8/17/22 • London, UK
The Green Note
8:30 pm
w/Fiona Harte opening
8/18/22 • Southampton, UK
The Art House
7:30 pm
8/19/22 • Worthing, UK
O'Connor's
8:00 pm
8/20/22 • Midsomer Norton, UK
Midsomer Norton Cricket Club
7:00 pm
8/21/22 • Halifax, UK
The Workshop Theatre
7:30 pm
w/Plumhall
8/27/22 • Faulkland, UK
Tuckers Grave Cider Festival
8/28/22 • Whitchurch, UK
Percy's Cafe Bar
9:00 pm
8/29/22 • Llandudno, UK
TVWStock Festival
8/31/22 • Dublin, IE
Whelan's Upstairs
8:00 pm
10/1/22 • Binghamton, NY
Atomic Tom's
8:00 pm
---
Would you like Rachael to play at your venue or at your house?
Email booking@mpressrecords.com!